ANNOUNCING!
Dragonfly Wellness Center™ Moves to a Higher Plane
Now Located at 17975 North Highway One, Fort Bragg
(Highway One & Tregoning Street, just ¼ mile south of the Botanical Gardens)
Come Visit Us!!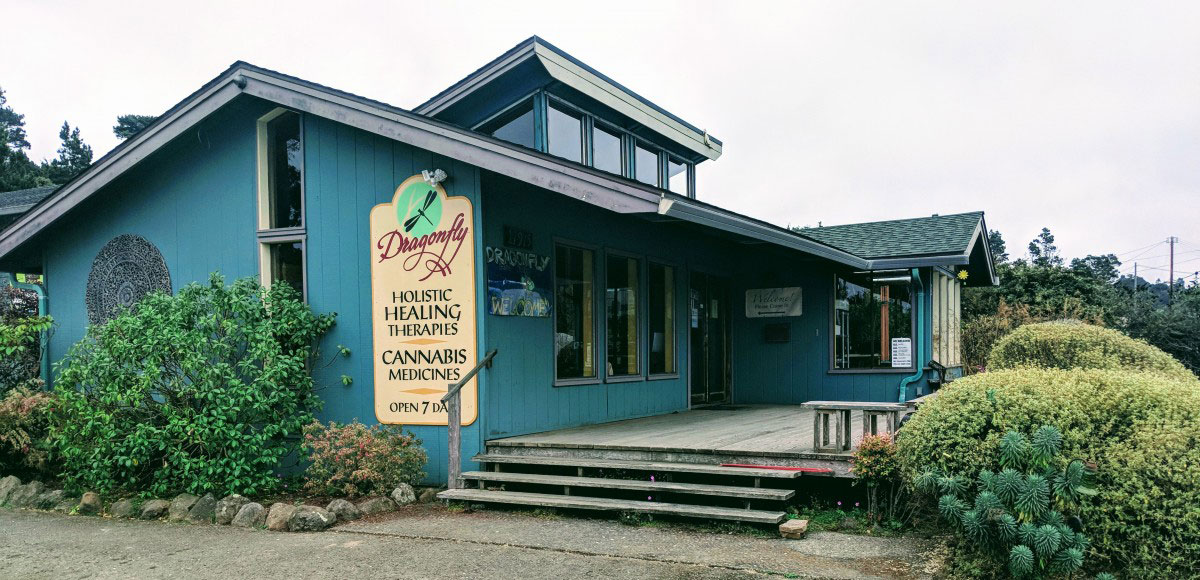 What makes Dragonfly™ unique?
"I was on the couch for two months, with two kinds of autoimmune conditions. When I got my CBDs from Dragonfly — and they were in tincture form — I took them, and within hours the fog in my brain was lifted, and I started to feel better."

— Jan Wasserman, Dragonfly patient featured in the video "Cannabis is Medicine: Changing the Narrative"
When a group of women got together to start a holistic healing center in December 2011, little did they know, that Dragonfly Wellness Center™ would become a community resource for people seeking pure and potent cannabis medicines.  But finding a place to create their vision of a holistic healing center was not so easy.
Dragonfly searched throughout 2011 in Sonoma and Mendocino counties for a space in which they could open a holistic healing center that expressed the true meaning of the word holistic. Instead of the Balkanized natural supplements, organic food, and sustainable lifestyles movements, Dragonfly would offer a cross-section of herbs, treatments, movement, and other classes as part of a diverse approach to natural healing that our bodies' complex metabolisms need.
Central to their vision of a holistic healing center was the inclusion of one of the oldest and most broadly used herbal remedies of all — cannabis, with its 5,000-year written history of healing. But back in 2011, the response from every potential landlord was straightforward and brutal: "Drop the marijuana from your business and we'll rent to you." 
Needless to say, Dragonfly found a home and began to build its business. They offered pure and potent, locally sourced medicinal cannabis, including pet CBDs; Chinese and other local wildcrafted herbal lotions, salves, tinctures, soaps; as well as t'ai chi, massage, Bowen treatments, acupuncture; and classes and community events such as Healing with Mushrooms, Meditation for Beginners, the Science of Cannabis Medicine, Paint 'n Puff parties, Green & Sober support groups, and grassroots policy meetings and public events.
Dragonfly is part of MCIA (Mendocino Cannabis Industry Association), a community of industry professionals dedicated to preserving and promoting the region's heritage of producing world-class cannabis and cannabis products.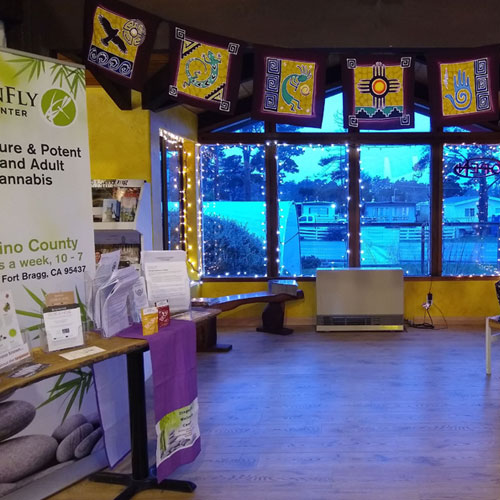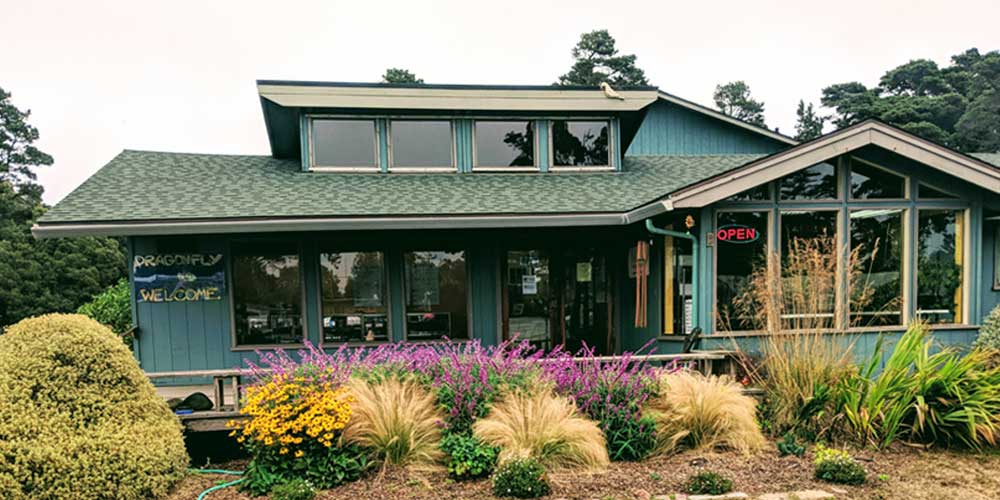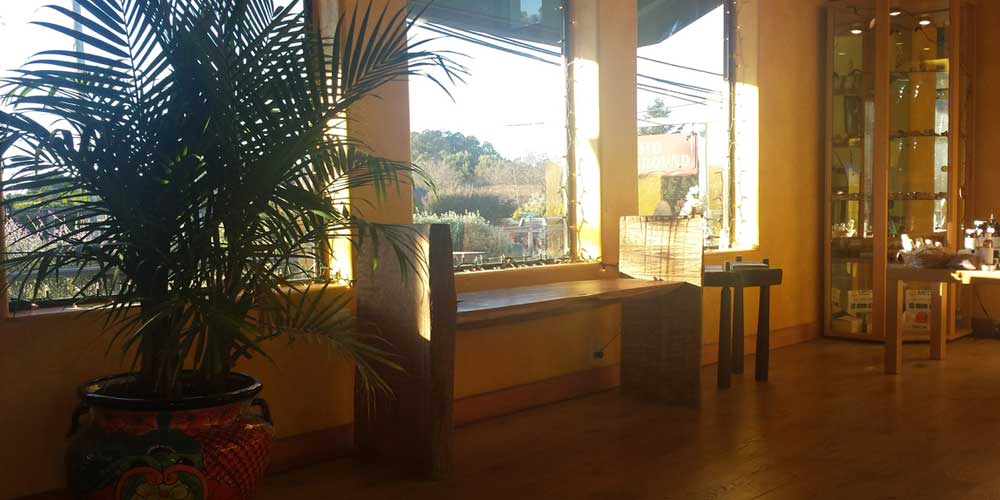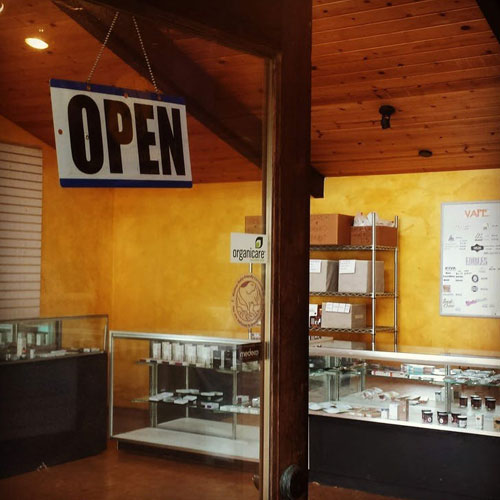 Dragonfly Wellness Center™ is part of a changing industry
Times have changed since Dragonfly™ opened in 2011.  In a key turning point in building partnerships, they recently moved into a beautiful and better space with long-time garden supply store, Dirt Cheap, just up the road, still on Highway 1, and within earshot of the Mendocino Botanical Gardens, which hosts an up and coming cannatourism sector of visitors. Dragonfly combines product guidance, education, and concern for everyone that comes to visit. The staff does not call themselves "budtenders" or even "dispensary staff", but rather "patient counselors", symbolizing an important difference in what Dragonfly represents to the community.
Dragonfly's role of providing a patient support system and public education vehicle has extended beyond its own doors, with staff presenting guidance on "How to Choose and Use Your Cannabis Medicines" across the county and beyond.  Dragonfly's staff have presented at industry events such as the Emerald Cup and Farmers' markets, as well as patient support groups, hospital outreach & education programs, the Chamber of Commerce, Kiwanis, Rotary, health care providers clinics and professional groups, hospital boards, and everywhere people are open to hearing the changing narrative about cannabis, as years of prohibition-defined misinformation slowly dissolves into irrelevance.
In 2018, with California bending under market pressures that support adult use as the perceived big money-maker, it is getting harder to find expertise or advice on medicinal cannabis – at the very time that it needs to be easier and more available.  Every day more and more people are turning to cannabis as medicine.  They are disillusioned with the pharmaceutical model:  the high cost, the side effects, the ineffectiveness of many "medicines" to do more than just treat symptoms.
The cannabis industry itself is shackled by a lack of scientific information and continues to operate from its 40-year-old incomplete narrative informed by a hippie sub-culture that, at worse, touts the mystical magic of cannabis as the be all and end all of world problems – everything from war and global warming to economic inequality.  We in the cannabis community know that cannabis is an inspiration as well as a healing herb.  But it is in danger from an economic system that will degrade and denigrate its broad value to the world.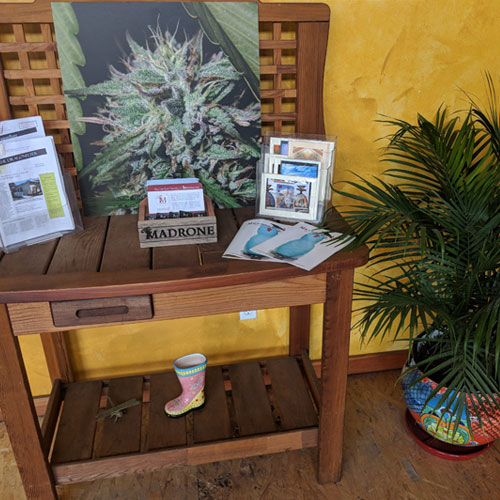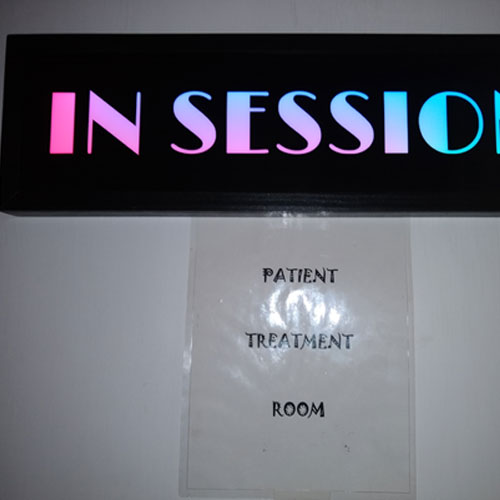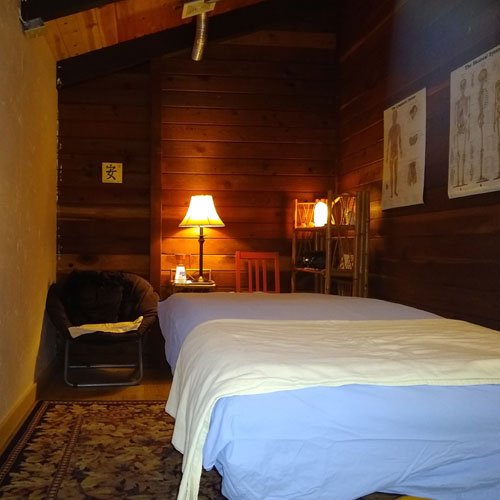 As a member of the Mendocino Cannabis Alliance, Dragonfly joins with many others to protect the region's small craft and heritage cultivators, manufacturers, retail and other operators.  To both protect the value of medicinal cannabis and to raise the professionalism of the cannabis industry in these newly regulated and legalized times, Dragonfly has joined with other members of the cannabis industry and community to challenge the dominant economic development paradigm of "Big is Better."
Join us in helping to shape a new image of our new industry.