What to Expect from Herbal Treatment of Chronic Diseases and Infections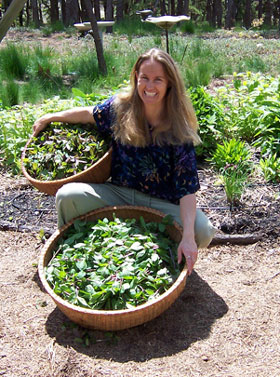 Sonja Boynton,
Bluebird Herbals (sold at Dragonfly™)
Expect to Attain Wellness
Every person I have ever treated for Lyme and/or coinfections, Rhumatoid Arthritis, and other chronic ailments that has followed the individual protocol, developed specifically for them, has experienced significant improvements in health. Most are enjoying total freedom from the difficulties of the condition(s).
Expect a time commitment
Healing with herbs for any serious condition requires that you are willing to dedicate an hour or more a day to self-care and healing for at least 3 months. After that time, some of the treatments in the protocol might fall away, others will not. Herbal treatment for chronic disease and infections takes longer than conventional treatment yet is a more gentle approach (though sometimes it does not feel gentle). Healing is an empowering journey that teaches you the kinds of foods and behaviors that are helpful to recovering wellness. Knowing the elemental basis of your constitution, you will have the tools to determine how to better digest your medicines, food as well as your life. Know that I am not interested in judging or criticizing, I am interested in empowering you to do the best you can in dancing with a very tricky disease. One of the most important teachings for someone with chronic disease is to learn to be gentle with ourselves in our imperfections. Our 'disease' gives many opportunities to practice this teaching. None of us are perfect, and it is not your fault that you have a chronic illness.
Herbal treatment for these problems does work in most cases though it can take a year or more to complete treatment. At that time, some medicines may still be required, but if you choose, I am happy to instruct you on caring for the plants you need in making the needed medicines.
Recovering from a chronic disease or condition can be like recovering from other long-term parasites or viruses. Once you have danced with the disease and regain your strength using the protocol, you know precisely what gives the disease a foothold to cause harm and are able to avoid it. You gain the ability to sense the early signs of trouble as well as the knowledge of what medicines, foods and actions are needed to regain balance. In this way, you are able to avoid having any symptoms of the disease by knowing how to handle it proactively with small amounts of medicine with very little effort. The large majority of people I work with get fully well and can live their 'normal' lives again!
Expect a financial commitment
Our first consultation will likely be between 1 and 3 hours. This covers a detailed medical history, a specific disease history, lifestyle history and diagnostics such as tongue, nails, hair and pulse analysis. If we are doing a phone consultation, I will ask for digital photos in order to do the diagnostics. The cost of this consultation is $80/hour. I charge $60/hour for the time that is required for me to create a detailed protocol for you, i.e. what medicines at what doses, and suggestions about how to strengthen the systems that have been weakened in order to undermine the disease. Credit card, money order, check or cash is accepted for payment.
This protocol is critical to success! The protocol outlines the basic ideas for empowering you with the knowledge of the kinds of things that will help you as well as the things that will undermine the disease. For example overworking or simply standing unprotected in a cold wind will often exacerbate symptoms of people with chronic Lyme Disease. Doing things we normally associate with good health may not be helpful! In the above example for someone with chronic Lyme, eating or juicing kale or collard greens by themselves can undermine health yet with the right pairing of sweet and sour, these foods become digestible enough to be nutritious. The protocol provides a map for you to become more aware of how to care for yourself when experiencing situations and this is extremely helpful. Developing this protocol specific to an individual's needs usually takes about an hour. The first follow-up consultation is needed about a month after being on the protocol. Further follow-up visits are required every six weeks to 2 months. Sometimes a particular difficulty may warrant an unscheduled consultation, but this is uncommon.
The medicines are in addition to the consultation cost. The initial cost for medicines for most people with chronic disease runs about $300 for the first order, then about $80-$120/month after that. These are estimates, some people need more, and some need less. After about 6 months, usually there is a reduction in medicine, as fewer are needed.
Finally, I require 24 hour's notice for canceling appointments or a $75 fee is charged.
If this feels workable for you, please let me know (and include your phone number and email address) and we can begin. It would be an honor to be invited into your healing journey and I look forward to connecting with you.
Wishing you well,
Sonja Boynton
www.BluebirdHerbals.com